Web Conferencing & Video Conferencing in One
Easy to use Web & Video Conferencing at your fingertips. ConferSave's "ConferWeb" solution has a full suite of integrated features. Share documents, hold face-to-face training sessions, provide helpdesk support with desktop sharing and much more.

Enhance your conferencing experience by adding visuals on demand. ConferWeb, our interactive web solution is a powerful way to communicate, interact and collaborate with your audience.  You can hold impromptu meetings or schedule them in advance.

ConferWeb Screenshot (Click for larger view)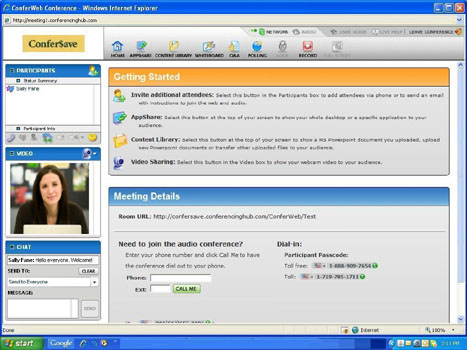 ConferWeb Features include:
Share documents, spreadsheets and desktop
Show PowerPoint slides
White board capabilities
Realtime Q&A, Polling and Chat functions
Video capabilities
Interactive "pass-control"
Easy invite process with point and click "to join" feature
Integrated with audio and immediate *0 technical support
Some special uses:
Board Meetings
Sales and employee meetings
Human Resource roll-outs
Training
Product Demonstrations
To learn more about web conferencing or schedule a demo call us at 877-444-8535
Sign up for web conferencing or video conferencing services here.