ConferSave is here to assist you when you need it most. Our award winning customer service professionals and support personnel, are dedicated to your satisfaction.  We welcome all feedback from our valued customers and we are always striving to find new products and services that are useful in today's fast paced business environment.
24 hours a day, 7 days a week
We are here to assist you when you need it most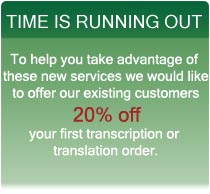 ConferSave Worldwide
1501 Hamburg Turnpike
Wayne, New Jersey 07470
Phone: 877-444-8535
Fax: 973-694-3148
Email: info@confersave.com
Please fill in the information below to leave feedback or to contact us. A ConferSave representative will contact you as soon as possible.



*

Are required fields.


Translating Service
ConferSave's Translating service can be used beyond your conference calls. Create international versions of your web site, product manuals and sales literature or make your audio and web conferences globally available with our translation and transcription services.  Our transcription and translating service provide a complete one-stop-shop for all your communication needs -- in any language.